Follow Us On:




What is affiliate marketing ?
Affiliate marketing is a performance-based type of marketing in which a company rewards one or several affiliates for each visitor or customer signed up to the website or offer.
How does it work in the iGaming industry?
It starts with the online casino operator who wants affiliates to promote their brand through affiliates' websites, blogs, vlogs etc. Affiliates participating in the operator's affiliate program generate trackable links and add them to their affiliated channels and sites.
When a customer clicks on the trackable link, it redirects to the operator's site, and a transaction is made. As a result, the merchant gets a sale, and the affiliate gets a commission.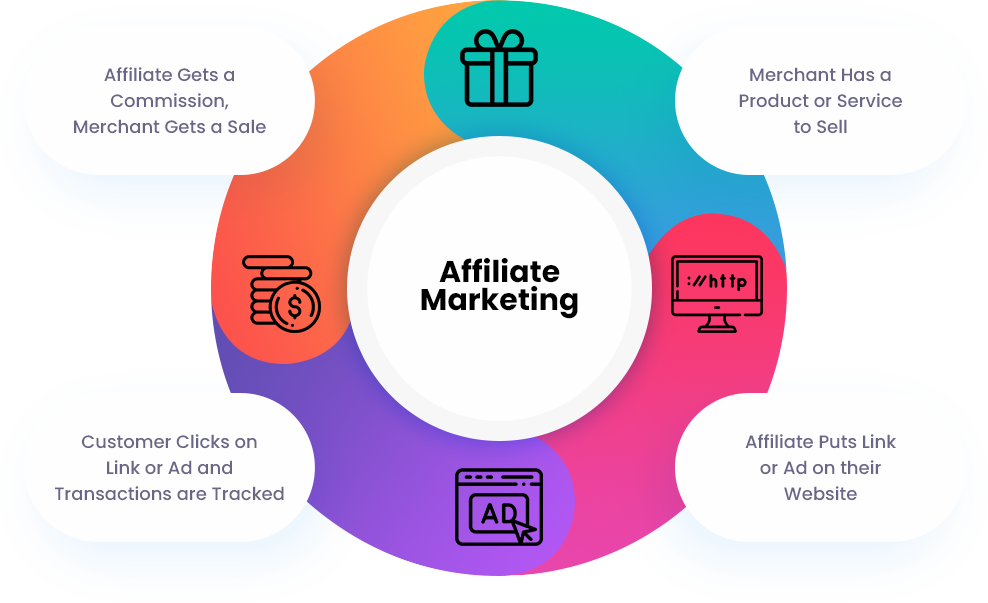 In an overly regulated and highly competitive iGaming market, affiliate marketing is an efficient way to get quality direct traffic for your brand.
Many upcoming brands in the iGaming market need help to become established in a heavily regulated sector, especially when competing against established big brands. This is where affiliates promoting your brand can be beneficial. Affiliates act as ambassadors for your brand, where they do the major work of tailoring promotions to their customer base via sites with significant traffic.
Our affiliate managers at Mediacle are highly trained and are experts in understanding the client's needs according to the brand's theme, type, and country preferences. They hand-pick the right affiliate partners that maximise results by offering competitive commissions.
You can approach a wide variety of affiliates specialised in different areas of iGaming.
Unlike traditional marketing, affiliates can target niche/specific sectors. For example, if you are a crypto operator, there are affiliate sites that list, compare and review Crypto Only casinos on their websites. Getting listed on these sites has a high chance of getting high-converting traffic. The affiliate network also enables you to secure a top position so that players will notice and deposit in your brand.
At Mediacle, we have built strong relationships with affiliates for the last 10 years. This trust built over the years has ensured that brands get listed in the appropriate website categories. Affiliates must, however, adhere to the regulations. If not, the brand can be penalised for affiliates' non-compliance. Affiliate managers stay on top of the latest compliance updates and ensure that affiliates adhere to them to avoid penalties.
Performance-based payments
Unlike traditional marketing, affiliate marketing has an excellent return on investment (ROI) rate, as many people are more willing to buy if they see others successfully participating in the service provided by the online gambling site.
Affiliates receive payment only after player conversions have taken place. As a result, you will get relevant traffic that converts into real sales. Also, it helps you understand the conversion rate of your brand and the affiliate marketing budget that needs to be allocated every month.
Our in-house affiliate management team forecasts budgets and sales carefully to ensure that they sign up affiliates at a rate beneficial to operators and affiliates.

It helps to boost your credibility by being associated with reputed affiliates.
According to Technavio, a research firm, the global iGaming industry is worth $565 billion. Players in a heavily competitive industry choose brands based on trust and credibility.
Affiliate marketing provides an opportunity to be associated with reliable affiliates that help to spread the word about your brand to potential players. Once your brand is promoted on the best-converting sites, it is a profitable way to generate traffic. After you establish a reputable brand, other credible affiliates will approach you to advertise your brand on their sites at reasonable rates.
A successful affiliate manager must be able to analyse and select affiliate sites that are relevant to the brand's needs in order to find credible affiliates.
Provides Exposure to wider geography via marketing campaigns targeted at different locations and events.
As online casinos operate in more than one market, affiliate marketing allows them to acquire geographically diverse partners. You can implement more effective marketing campaigns or even explore new markets by establishing effective relationships with global partners.
For a global promotion to be successful, it is key to have custom offers according to the player's country; e.gThe UK players may prefer free bonuses to match-up bonuses. In contrast, Finland prefers match-up bonuses rather than free bonuses.
To attract players, the brand's site and offers must meet the needs of players. That is why it's imperative to have an affiliate management team that stays on top of the changing habits of players globally. As a result, affiliates will be able to convert more players.
At Mediacle, we provide affiliate management services where we develop the affiliate programme and recruit and manage affiliates on your behalf to promote your brands.