Mediacle Affiliate Platform (MAP™) is an affiliate management platform that has been designed specifically for the online gaming industry by combining over 20 years of software development expertise and our extensive experience of managing iGaming Affiliate Marketing Programmes.
The MAP Hosted Solution enables iGaming businesses to reliably manage, optimise, and run their Affiliate Marketing Programmes in a cost effective way.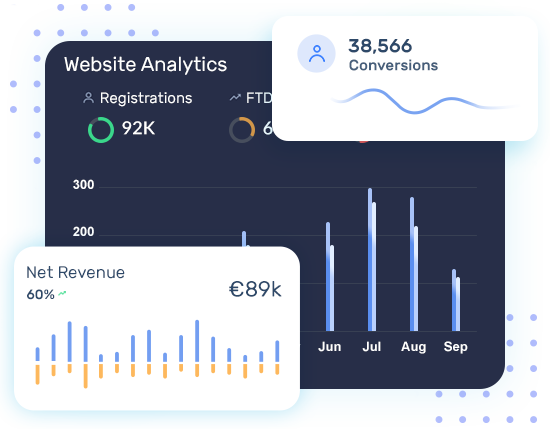 What are the features it offers?
Affiliate marketing entails activities outside of your owned media. Since rewards need to be commensurate with efforts, you need a reliable and trusted software to trace back the source of new gamers. MAP™ iGaming Whitelabel Affiliate Software offers reporting at granular levels: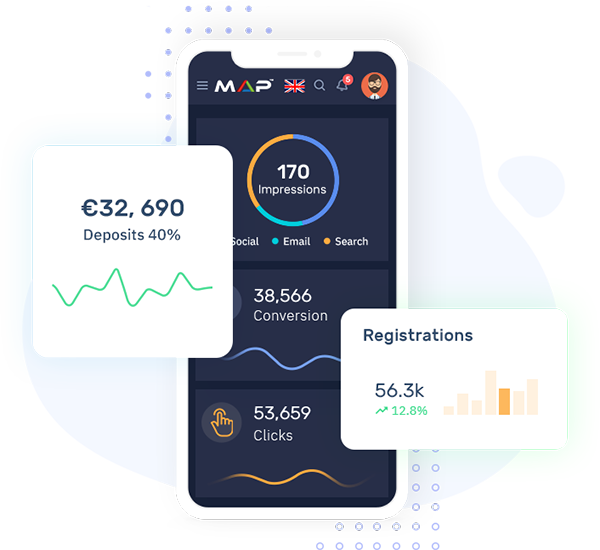 If you have multiple products, you can know your white horses. Media allocations can be revised to place larger bets on winning products.

In case of global organisations, it is possible to link back every product and every affiliate to a dedicated account or country manager.

The selection of media channels and the campaigns within can also become more data driven.

In case of large number of affiliates, one can design variable fee structures depending on their performance as it possible to know data at sub affiliate level as well.
2014
Project Idea
MAP™ was conceptualised to overcome the challenges faced by in-house affiliate marketing managers with other off-the-shelf products in the market.
2015
Launch
After months of developments and testing, the first affiliate network was launched on the MAP™.
2016
Scores a Half-Century
MAP™ quickly became the affiliate software of choice with over 50 brands choosing MAP™ to power their respective iGaming Affiliate Programmes.
2017
Early Recognition
Recognised & Shortlisted by the EGR B2B Awards as the Best Affiliate Software.
2018
MAP™ 2.0
MAP™ 2.0 version was released with over 100+ new and innovative features.
2019
Recognised Again
Recognised & Shortlised again by the reputed EGR B2B Awards as the Best Affiliate Software.
2020
Double Century
MAP™ scores a double century with over 200 brands trusting MAP™ for their respective affiliate programmes.
2021
Another Award
MAP™ is shortlisted yet again by iGaming industry's most reputed iGB Affiliate Awards.
2022
MAP™ 3.0 Launches
A totally redesigned version of MAP™ which is 3x faster and has over 70+ additional new features.
MAP™ offets a a bird's eye view of various partners and their performance through a professional dashboard. Every affiliate can work with his dedicated login and set up sub affiliates based on permissions granted. There are provisions for automatic approvals of new affiliates as well.
Easy Customisation & Quick Migrations
From affiliate landing pages to their login website, everything can be designed as per your business theme at MAP™. Setting up languages, payment methods, permissions, accesses and every other detail can be done at a record pace, without disrupting the current business. Existing data migration can also be done smoothly with the help of dedicated account managers.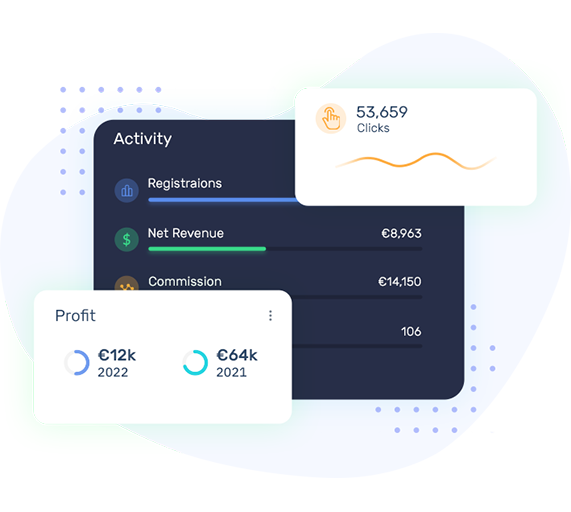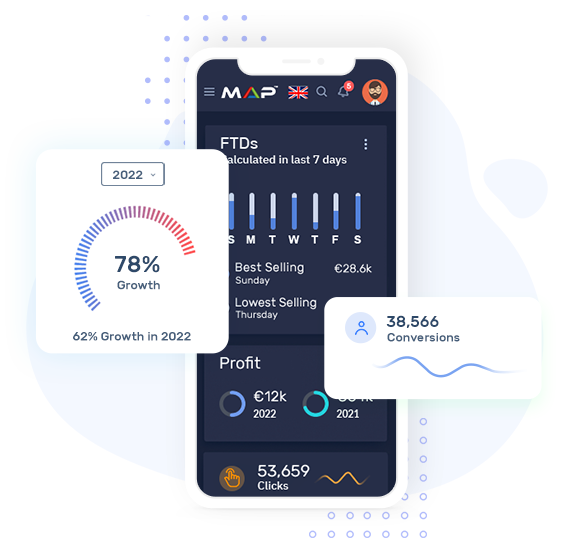 Reward Plans & Financials
A lot of business owners don't like to have blanket schemes and rewards. MAP™ iGaming Affiliate Software allows them to create one-on-one tailor made plans. If you want to incentivise your affiliate based on slabs which increases his hunger for more, you can do so using our highly customisable software.
Plans can be set for specific promo periods and can be revoked as desired without any manual intervention. Besides, the complete invoicing, taxation and payment summaries can be worked out through designated in-built modules.
Accurate Tracking and Attribution
Serving banners or de-activating them need not be a manual exercise anymore with this super software at hand.
Designing custom banners, allocating backup banners and tracking offline codes can be done at a click. Every link on the website can be tracked to check which elements are working the most. Similarly, a consumer trail can be drawn to link back every click, every sale and every sign up, making performance driven affiliate programs possible.